CMap integrates with Xero to remove the need for manual, duplicatation of inputting and maintaining data in both systems. One of the key features of the integration is that Expenses created in CMap can be pushed into Xero.
Once an Expense has been submitted and approved in CMap, you will be able to push the transaction to Xero, allowing you to reimburse Users as part of your payroll process.
1. From your Dashboard, go to the Finance tab. On the left-hand side navigation bar, you'll see the section, XERO, where you can access all of the Xero integration tools. Select Push Expenses. This shows you all of the personal Expense claims that are ready for transfer.

If you are using this tool for the first time, you will be asked to authorize CMap to push/pull information to Xero. Simply press Connect to XERO to continue.
2. Select the Xero company that you would like to connect to from the drop-down list and press Allow access for 30mins.
If you are already logged in to Xero, you'll be redirected back to CMap. If not, you may need to enter your Xero login details here.
3. If applicable, select the relevant CMap Office from the dropdown list in the top left-hand corner.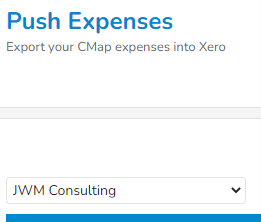 4. Select Expand All which will expose all Expense Item details instead of just the top-level Expense Claim details.
5. Using the tick boxes, select the Expenses you wish to push to Xero and select the relevant Nominal Code.
Selecting the Nominal Code is not mandatory and can be actioned in Xero once pushed.

6. Ensure all details are correct and to finalise the process, please select Push Expenses.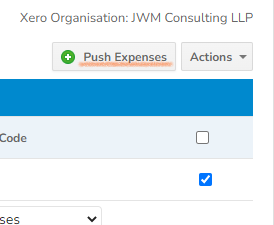 What happens next?
Once the push action has completed, you will receive the green confirmation banner at the top of CMap stating the number of transactions that have successfully been pushed to Xero. The pushed Expenses will now be present in Xero's Bills Draft section waiting for approval.

If any of the Expenses did not push through successfully then you will receive a red warning banner.

In this instance, a red exclamation icon will appear next to the offending transaction(s). When hovering your cursor over the red icon, a validation error message will display detailing why Xero denied the transaction.
If you do come across this, please contact CMap Support detailing the affected transactions and screenshots of the validation message. This information will be pivotal in determining why Xero has not accepted this.