This article explains how to create and add an Activity.
You can add Activities in a multitude of pages within CMAP, so the first thing to consider is where you should add the activity.
For example: If the activity is just a general note against a contact and not related to any project, you will want to add it via the Contact Details page; whereas if the activity relates to a specific project, you will want to add it via the Project Details page so that it is intrinsically linked to the project.
The two Activities Panels allow you to view Open Activities (i.e. yet to be completed) and Completed Activities (i.e. already completed).
To add a new activity, click the Add button in the top right-hand corner of the Activities Panels.

The Add an Activity pop-out will appear, prompting you to complete the following fields: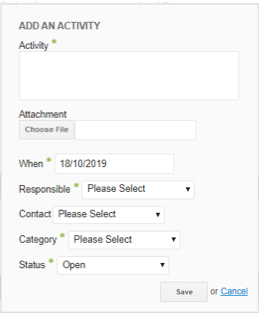 Activity– Provide a detail of the activity e.g. "Call to see what they thought of proposal"
Attachment – If relevant, browse and upload a file, such as a proposal, email, spreadsheet, etc.
When – Set a date for your activity to be completed
Responsible – Set a responsible individual for the activity (this defaults to you, but you can set activities for other users and use the My Delegated Activitiesdashboard to monitor them)
Contact – Select a contact at the company to relate the activity to (this option will only appear if relevant)
Category – Set what type of activity it is e.g. Telephone Call, Meeting, Email, etc.
Status – Set whether it's an Open(i.e. waiting to be actioned) or Completed Activity
Once completed, click Save.
NOTE: Activities that fall within the next 30 days will appear on the My Activities dashboard box located on your Dashboard
NOTE: Clicking an Activity on the My Activities dashboard box will navigate you to the relevant page within CMAP
NOTE: To Complete an Open Activity simply tick the tick box on the left-hand side of the Open Activity. It will then automatically move to the Completed Activities section.