Contacts Main Page Explained
When you go into the Contacts tab, you will see sub-pages for Contacts, Companies and Groups in the sub navigation, defaulting to the Contacts page.
The contact data that appears in the page is determined by the View that's applied via the dropdown in the top-left.
There are 3 Standard Views:
All Contacts, returning all contacts in the database
Contacts I Own, returning only the contacts where you are set as their Owner
Live Project Contacts, returning only the contacts linked to projects you're responsible for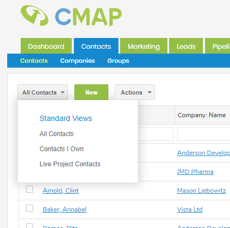 Simply select your preferred view by clicking it and the grid will automatically update to display the relevant contacts.