Welcome to the CMAP for Outlook How-To guides, we hope that you have successfully installed CMAP for Outlook and that you're ready to have a look at all of the useful things you can do in CMAP, all from within your Outlook Window!
If you have any problems installing the CMAP for Outlook Addin, please get in touch and we will be happy to help you out. 
Once you have added CMAP for Outlook through the Microsoft Store, you should see this icon in your Outlook Header bar...

Click on the icon and this will open the CMAP panel on the right side of Outlook. To keep the panel open at all times, just click the little pin icon in the top section of the panel. 

To log into CMAP through Outlook just enter your CMAP domain (that's the link that you type into your browser to access CMAP, but only the bit before you type 'cmaphq.com') into the first box. Then, enter your email address and your CMAP password (the ones you usually log into CMAP with) into the following boxes: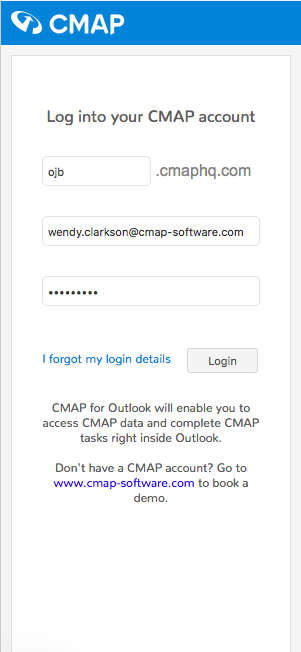 Then click 'Login'.
| | |
| --- | --- |
| Tip | If you have forgotten your password, or are having any issues logging in, you can use the 'I forgot my login details' link and follow the steps to reset it. |
Now lets have a look at what you see when you first log into the Addin. This is your CMAP for Outlook Homepage...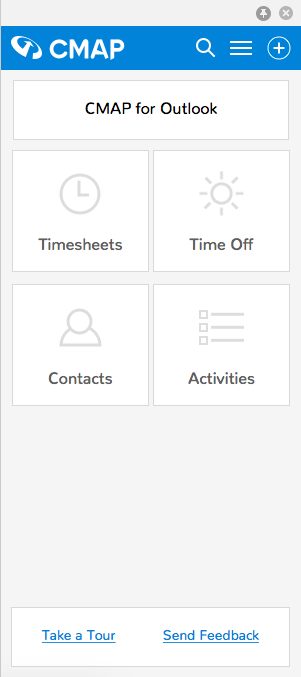 | | |
| --- | --- |
| Tip | Wherever you are in the Addin, you can always get back to the Home Page by clicking on the CMAP Logo in the Blue Header bar!  |
We've added some useful functions into the blue menu bar. The search enables you to quickly search the CMAP contacts database for a contact and view their details.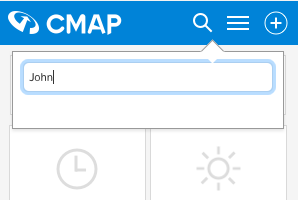 When you enter a name and click enter, all results are displayed, ready for you to click on the one you are looking for and you can view more information about that contact.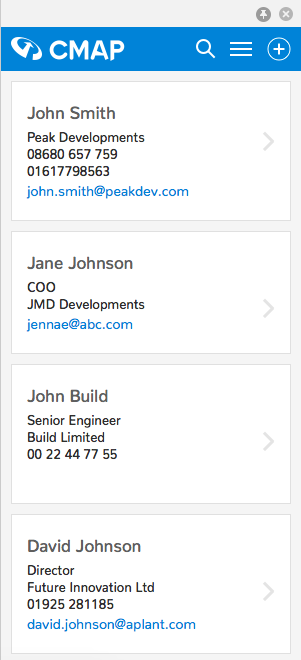 Next to the search icon, there's a menu option that you can use to get back to the home page or any of the other available Addin Modules.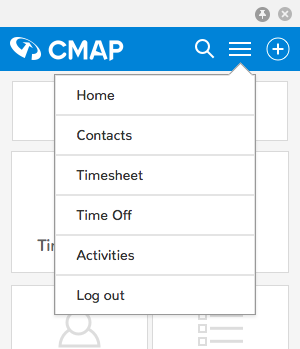 Next to this, you can see a Quick Add icon which you can use to quickly add a new Contact, Activity or Lead which is really useful!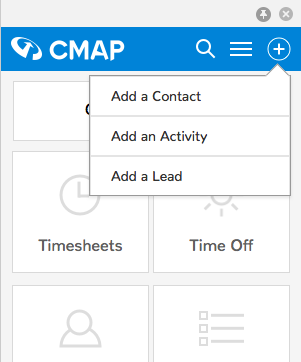 Below the menu bar, you can then see the available modules in CMAP for Outlook, I'll show you in detail how each of these work soon but just to summarise for now, we have: 
Timesheets - Complete your CMAP Timesheet right within Outlook, there's no need to log into CMAP, you have all of the tools you need to complete, edit and submit your timesheets right here and now! 
Time Off - View your current time off allowances without having to log into CMAP, see upcoming time off and even submit a time off request all from this little Outlook panel! 
Contacts - click on an email and then click on 'Contacts' to see the panel come to life. If the Contact that your email is from exists within CMAP, you'll see all of their details including any activities and projects related to the contact, and you can click through to view more details or launch a project in CMAP.
If the contact doesn't exist in CMAP, you can add them really easily too!
Even better, you'll be able to add an email as an activity in CMAP with just one click, meaning you can instantly update your projects with actions as soon as they happen! 
Activities - Use this panel to view your CMAP Activities in detail and mark them as completed. And you can add new activities simply by using the Quick Add menu in the blue bar. 
So, there's a summary of each area, now lets have a closer look and explain how each of them works. 
Let's have a look at Timesheets first...