Clicking into the Timesheets module, you will be taken to your CMAP timesheet. This contains all of the data for your current timesheet week in CMAP.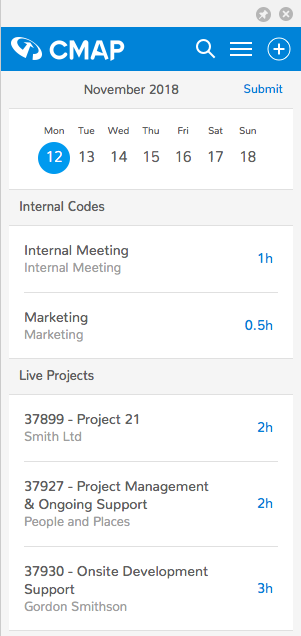 Across the top of the panel, you can see the days of the current week. Clicking into each day will then update the Internal Codes and Project hours value to reflect how much time has been booked to each area on each day. 
However, you don't need to click into each individual day to add time to it, the great thing about our CMAP for Outlook Timesheet tool is that you can add a whole week of time to a project or an internal code in just a couple of clicks. 
So, lets say I want to add some time for an Internal Meeting, if I click on the number of hours for Internal time (highlighted in blue) CMAP then opens a pop-up entry panel for Internal Meetings for this week.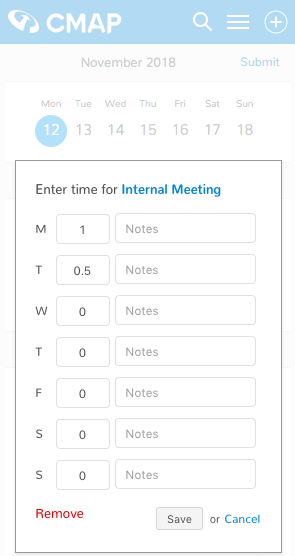 In here, I can then enter the number of hours for Internal Meeting for each day and add any notes required. Once completed, I click on Save.
To remove Internal Meeting from my timesheet, I just click on 'Remove' 
For Project Time, we do the same thing - click on the blue hours value on the project and enter the details into the pop-up.
Notice that when we add time for projects, we have some additional things to fill in like the Task that we have worked on and we also have the 'Add Another' function for Project time which means you can easily add different time entries to the same task on the same day. 
To add a new line to the timesheet, there is an 'Add Button' at the bottom of the panel, clicking on this then gives me the option to add either a Project or an Internal code line to the timesheet.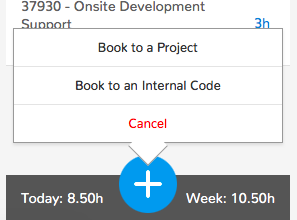 And you'll notice that you also have some totals showing down here too, on the left is the total number of hours booked on the day selected in the timesheet and the other is the total number of hours in the timesheet for the whole week. 
Once the timesheet is complete, clicking 'Submit' at the top of the panel will submit the time and move on to the next timesheet week just like CMAP does!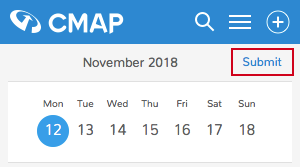 Now lets take a look at Time Off