When you click into Time Off, the first thing you'll see is information relating to your Time off allowances in CMAP.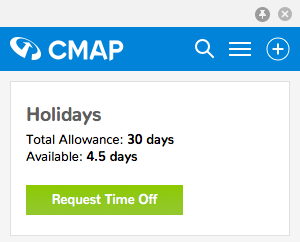 If you have more than one time off type you will see these listed below one another.
We are lucky enough to get our Birthday off here at CMAP HQ, so this is the additional time off type you can see below. Each Time off type tells you how many days allowance you have in total and how many days you have available yet to request.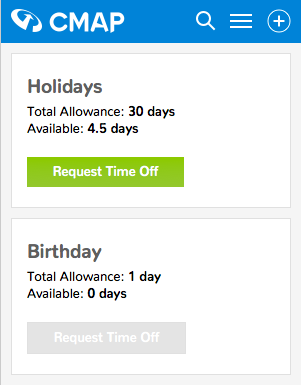 To request Time off, click on the Green Request Time off Button for the time off type that you wish to book. 
You'll then be taken to the New Time off Request form where you can fill out the details and this is just the same as when you book time off through CMAP.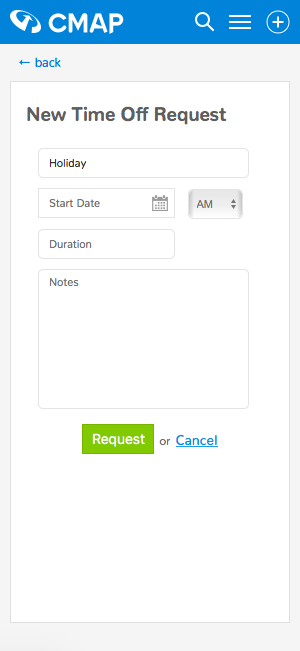 Set the Start date of the request, the duration and then add any notes you might need to include. To book a half day, simply enter 0.5 in the duration and then select whether this will be in the morning (am) or the afternoon (pm) from the dropdown selector. If you are booking full days, you can just ignore this dropdown. 
Then simply click on Request and your usual Time off Approval Workflow will begin.
Underneath the time off types you will also see any upcoming time off for your information.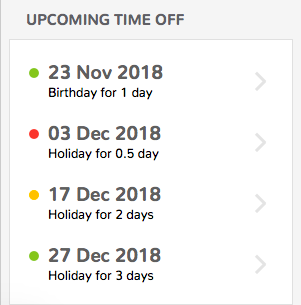 Time off shown with a green dot has been approved, any time off with an amber dot has been submitted but not yet approved and any with a red dot has been rejected. To view more information about upcoming time off, just click to be taken into the details page. 
To cancel a time off request, just click into it to show the details and then click 'Cancel Time off'. 
 Lets see how the Contacts Module works next