The Contacts module of the addin is really powerful! When you have selected an email and then click into Contacts, CMAP for Outlook will immediately begin searching the CMAP contacts database for a match for the contact from the email selected. 
If the email is from someone who doesn't exist in your CMAP contacts database, you will see the following message: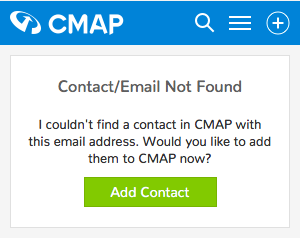 And from here you can easily click 'Add contact' which will open the CMAP New Contact form for you to enter their details into CMAP.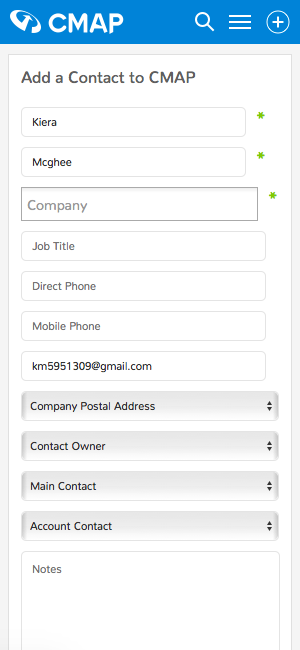 If the Addin finds a match in the CMAP contacts database, it will show you some details about that contact. 
For example, here I have clicked on an email from Len, and the Addin has searched CMAP and found a matching contact using Len's email address and it's now showing me information about Len Campey pulled through from CMAP.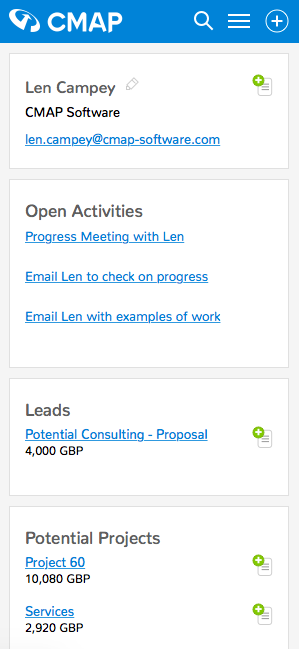 So, there's a lot of things we can do from here, lets work through each one and I'll explain them a little more. 
At the top of the panel, I can see Len's contact details from CMAP. At the moment, I have his name, company and email address. However, if I click on the pencil icon next to his name, I can add in some more information. I'm going to add a telephone number for Len as I've noticed it's in his email footer and we don't have it in CMAP yet.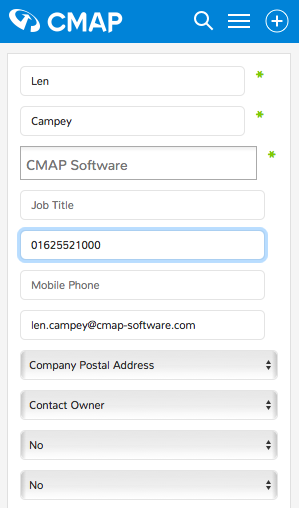 Then, if I scroll down and click on Save, you can see that Len's telephone number now appears in the details panel too.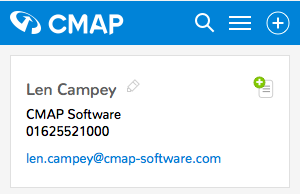 If I click on the green + icon to the right of Len's name,

 the email I have selected will be added straight away to Len's contact record in CMAP as a completed Activity - that's pretty good isn't it? 
Moving down a little, I can then see a list of any open activities I have with Len at the moment.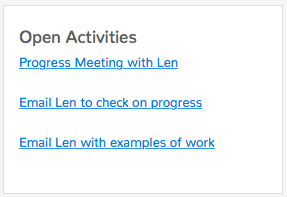 And I can click any of these to view more details and I can even mark the activities as completed if they have been.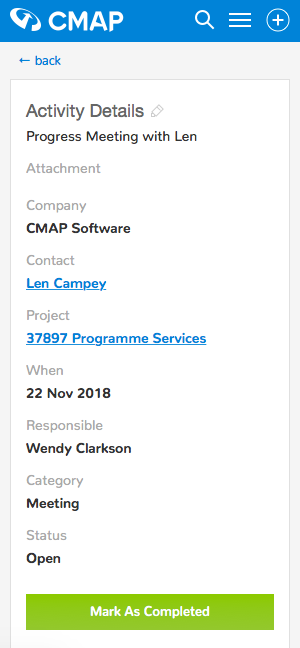 Underneath the Activities, I can then see information on which Live Leads, Potential Projects & Projects we have with Len and Len's company.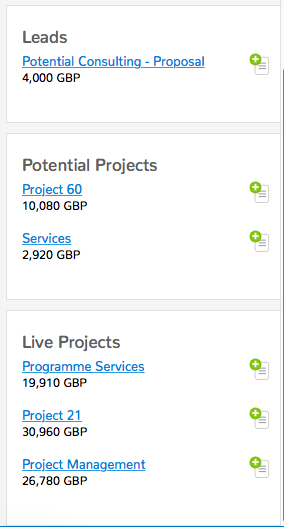 Clicking on the link for a Lead/Potential or Live Project will take you through to view more details of it within the addin.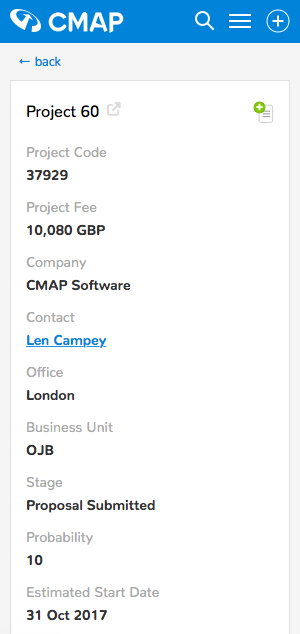 And if you click on the launch icon next to the Project Name,

this will open the Project in CMAP for you! 
Back the main contacts page, there is also an 'Add Activity' button against each Lead, Project or Potential Project and this will add the selected email as a completed activity not only against the contact (Len Campey in this instance) but also against the Lead/Potential or Project you have chosen to add it against.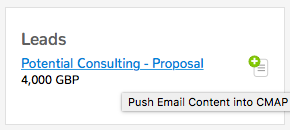 You can also add a new contact by clicking on the 'Add' Icon in the top menu bar and filling in the New Contact form - nice and simple!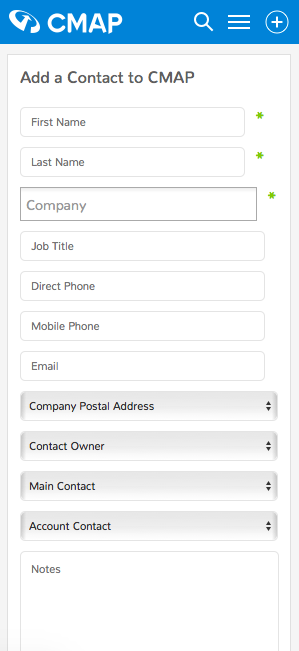 Now lets have a look at what we can do in 'Activities'