To have a look at the Revenue position for all of your Projects together, we suggest you refer to the following reports: 
1. Recognized Revenue Breakdown, which gives the total Revenue of your projects split by Project Type with a Pie Chart visual. 
2. Recognized Revenue Calendar - this gives all of the projects using a month by month view showing the Revenue values for each month. For closed months this will show the Recognized values and for open months, this will show the Forecast figures - both of which come from the Revenue Scheduling tool.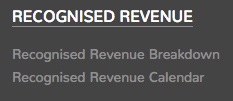 If you have the CMAP BI module, there are a multitude of reports you could create using the Revenue Scheduling data fields available in the Report Builder. 
So, what happens next? What do you need to do to be able to start using this fantastic functionality? Find out more in the next guide using the LINK HERE.