So once you have successfully forecasted your revenue for the project, you can now have a look at what happens as time moves on and months are closed in CMAP. This is where you start to think about the Historic Options.
Historic Options are where you tell CMAP exactly how you would like to actually recognize the revenue for the project when the month is completed and closed. 
When you close the month, CMAP looks at the Historic Option you have set for the project and calculates the amount to be recognized in that month based on this option, it then locks in the value so that it can't be edited and this is the amount that you have recognized in the month. 
You need to select the Historic Option you want to apply to either Fees/Externals or for each individual stage by using the dropdown option for Historic Option on each section.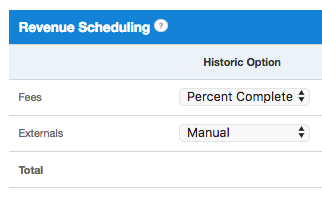 The Historic Options available are as follows: 
Percent Complete - uses the percent complete of the project (captured when the month is closed) to determine the value of revenue which can be recognized.
Invoiced - uses the value of invoicing for previous months to determine the value which can be recognized. 
Manual Entry - uses any values entered manually into the revenue phasing tool to determine the amount of revenue that can be recognized, these values will be locked once the month is closed. 
So you first need to set the Historic Option on the project for either each stage (if phasing at the Stage Level) or for Fees and Externals (if phasing at the Project level) and then do this for all of your CMAP projects. This would usually be done by the Project Manager when they first win the project in CMAP.
Once you are happy that these have been set for all of your projects, you are ready to close the month.
| | |
| --- | --- |
| Note   | Make sure you check other Month End procedures first, e.g. Invoicing is completed, % completes have been updated etc.  |
Go into Finance > Recognized Revenue > Close month and then click the 'Close' next to the month you wish to close. When this has updated, you will see a note against this month telling you when the month was closed and by whom. 

Bear in mind that if you choose to reopen the month, the historic values will be recalculated once the month is closed the next time. So if you do need to reopen the month, we do not recommend leaving it open for a significant amount of time. 
If you then go back to the Revenue Scheduling panel for the project, you can see that the value for the month you have just closed is now fixed and un-editable and this has been calculated according to the historic option you had set, e.g. 15% of $50,000 = $7,500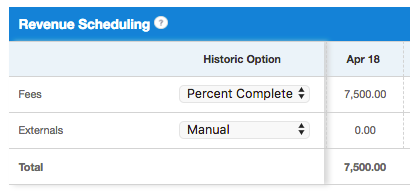 Follow on to the next guide using this LINK