Automated Activities are a great way to ensure that tasks are completed whenever you create or win a project in CMAP. 
You can use this functionality to build up templates of activities which can then be applied to your projects and set to kick-in either when the project is created, or won in CMAP (for Non AEC CMAP only). For AEC Projects, you will have the option to set the trigger for activities only when a project is created. 
Some examples of how you might use Activity Templates might be;
Check signed Fee Proposal received
Uploading Fee Proposal to the project folder 
Register the project with the insurers
These are just a few ideas but you can set up templates for any kind of activities and assign these to different people all using the Activity Templates in CMAP. So, lets have a look at how it works. 
The Automated Activity Template tool is an Admin tool, so you will need to make sure you have the relevant permission for this in your security group settings - look for the setting under Admin in Security Groups. 

Firstly, you'll need to create at least one Automated Activity Template, to do this head to Admin - Templates and choose 'Automated Activity Templates' from the list.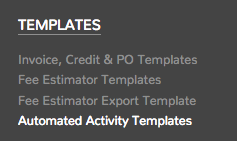 When you don't have any activity templates set up, you will just see a blank screen this this one.. 

And all you need to do to create your first template is to type the name of your template into the Name Field & select the type of template from the dropdown.
Template Types are where your template will take effect, you should have the option of either Project Templates or HR Templates (if you use CMAP's HR Module). You can see more information on HR Templates in the next guide. 
For now, we are going to create a Project Template, so select Project from the list and click Add. 
As you can see below, I have named my Template 'Activities for Public Health Projects'. You can add as many templates as you wish but we recommend that you carefully name each one so they are easily recognisable to anybody creating projects when they come to use them. 

Now that you have created a Template, you can start to build up the activities you want to trigger when this template is applied to a project. To do this you just click on the name of the Template and this takes you through to a page where you can start to decide which activities you want to trigger. 

So, the first thing you need to do is to select is what kind of activity the first one should be, you do this using the Category field e.g. is it a Telephone Call, Email, Document etc, select the relevant option from the dropdown. 
Then, enter the Activity Detail, this a description of what needs to be done e.g. 'Check signed Fee Proposal received'.
In the Responsible for Type, you can choose one of two things: 
1. Named Person - here you can select a named person from your CMAP user list to be responsible for this activity. This person will always be responsible for these activities whenever this template is used. 
2. Role - this means you can choose a role from the Project to be the responsible person for this activity, so this could be the Project Manager, Co-Pilot or the Owner, and this will also show any User Selection Dropdown lists you have created for your projects too! 
Using the Trigger Dropdown you can decide if this activity is triggered when the Project is created, or when the project is won (this won't show for AEC Projects). 
And using the When field, you can set how many days after the trigger point that the activity will be due.
So when you have completed all of these fields and clicked 'Add' it should look something like this... 

And you can keep your adding activities to this list and this will then become your template of activities which will be triggered whenever it's applied to a project and the project is won or created. 
When you have at least one Activity Template set up, you will see an additional dropdown selector on Project Initiation (see below) where you can select the template you want to apply to this project.
Once selected, when your project is created or won, the activities listed in your template will be created and applied to the responsible people with the due dates automatically set. And these will be visible in the My Activities dashboard for all users who have activities assigned to them. 
If you would also like to use Automated Activities for HR, take a look at the next guide for our insights on this.