You can also create Activities against people if you're using CMAP's HR module.
So, when a new user is created in CMAP, if you apply an Automated Activity template, a set of activities will be triggered to check that tasks are completed whilst you Onboard new users to your company. 
Examples of the kind of things you might use these for might be 
Check 'New User' form has been completed 
Review Policy Documents with New Starter
Check P45 has been filed 
You can build up different templates, just like you can for Projects, so that different activities can be assigned to different people if you need to. 
To create a HR Activity Template, head to the Admin Tool - Automated Activity Templates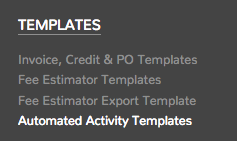 To create a new Activity Template, just enter the name of the template into the Name field and then select HR from the Type dropdown and click 'Add'. I have created a 'New User Onboarding Checklist' template below. 
Then, to create the activities for this template, just click on the name of the template. 
In the same way as for a Project Activity, select the Type of activity from the Dropdown list. 
Then, enter the detail of the Activity, e.g. 'Check New User Form has been completed'.
Using the Responsible Field you can either choose;   
1. Named Person - here you can select a named person from your CMAP user list to be responsible for this activity. This person will always be responsible for these activities whenever this template is used. 
2. Role - This means you can choose a role in relation to the person that the activity template is being applied to. This could be either their Line Manager or if you choose 'Person' this will assign the Activity directly to the User you are creating. 
In the When field you can set how many days after the User has been created that this activity becomes due. 
Once selected, when a new user is created and the template is selected for the user, the activities listed in your template will be created and applied to the responsible people with the due dates automatically set. And these will be visible in the My Activities dashboard for all users who have activities assigned to them. 
So it's very similar to Project activities, but these templates will appear for selection whenever a new User is added to CMAP instead of at Project Initiation.
The more templates you have set up for HR, the more you will see in the list. But, of course, remember to name them so that they are easily identifiable to avoid confusion. 
If you have any questions, please get in touch - support@cmaphq.com or 01625 521 000