To Add an Email Campaign
Click into the Marketing tab.

Then click Email Campaigns in the blue sub-navigation.
You will be taken to the Email Campaigns page which lists of all the Draft, Scheduled, Sending and Completed campaigns.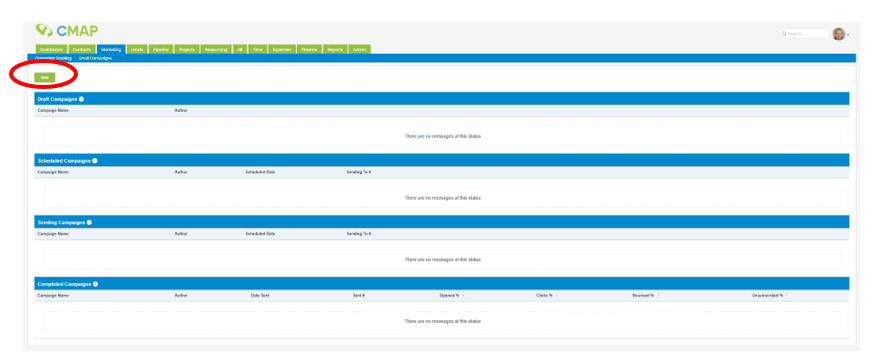 To add a new email campaign, click the New button in the top left-hand corner. The New Email Campaign pop-out will appear asking you to enter a name for your new Campaign. Enter a name and click the Create Campaign button.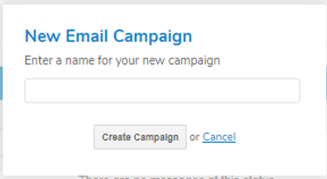 You will then be taken to the formatting page. Enter the From Name (i.e. who you want the recipient to see as the sender) the Reply-To Email Address (i.e. the email address you want the recipient to receive the email from) and an Email Subject (i.e. to populate the email subject) and add the main content of your email into the Email Content text box.
NOTE: You are able to use HTML formatting by clicking Source.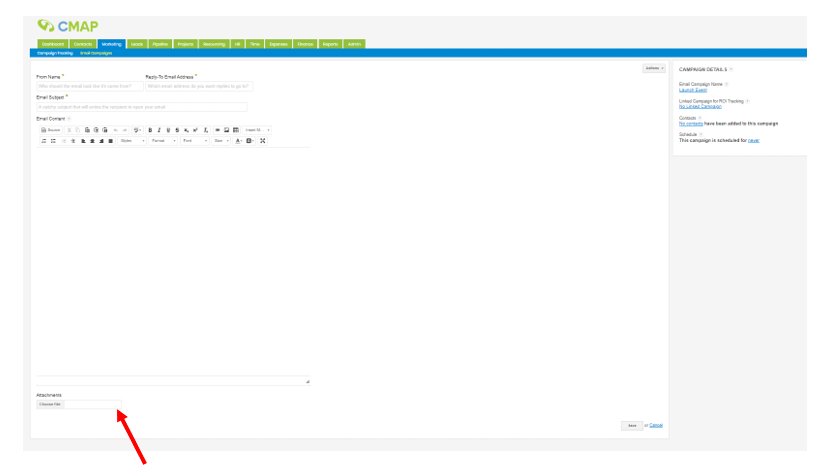 If you wish to add Attachments to the email, click Choose File, then browse and search the file to add it.
On the right-hand side of the screen is the Campaign Details section.

This is where you edit information about your email campaign, including:
Email Campaign Name — A name for internal use to describe the campaign
Linked Campaign for ROI Tracking – If the email is linked to a campaign in the Campaign Tracking section
Contacts — Where you choose the recipients for the email (NOTE: You can only send Email Campaigns to Groups or, more specifically, contacts from within Groups
Schedule — This is where you select a date & time for the email to be sent
Once you are finished composing your email, click Save
Your email will be saved until the next time you wish to edit it or when you are ready to send it out.
NOTE: Should you wish to delete your Email Campaign at any stage – go back to the main Email Campaigns page, find your campaign, and click on the X icon to cancel it.