Main Screen
The main Pipeline page is set out in the standard grid format.

In the top left-hand corner of the page is the standard Views drop-down controlling the data that is returned in the grid.
There are categories of Views:
Standard Views — out-of-the-box views
Shared Views — views created by other user's that have been shared with you
My Views — views created by you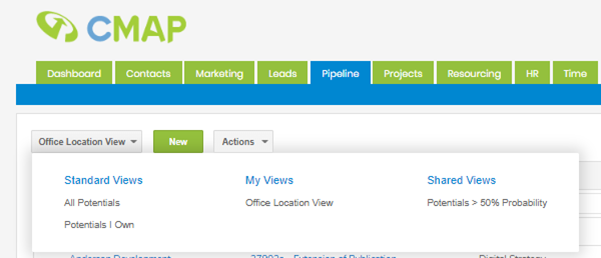 The data that is visible in the grid is driven by 2 things:
The Columns that are included
The Filters that are applied
To control the columns that are visible click on Actions, then select Customise Columns.

You can then choose which columns you want to view by selecting the relevant tick boxes and clicking Apply Changes.
NOTE: You can use the re-order icons on the right hand-side to drag + drop the columns into the order you want.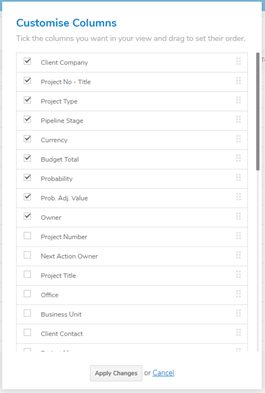 Once you're happy with the columns, you can then use the top search row to refine the results that are displayed.

The format of the data will determine how you are able to search:
Text Fields – will allow you to do text searches e.g. "Starts with", "Contains", etc.
Drop-down lists - allow you to tick-select option(s) from a drop-down list
Number Fields - allow you to do number searches e.g, "Is equal to", "Is greater than", etc.
Date Fields - allow you to do date searches e.g. "Current Financial Year", "Rolling Date Range", etc.
You are able to apply as many searches as required to refine the results.
Once the grid is showing the information you want to see—and if you would wish to be able to look at this data on a regular basis—click on Actions and then click Save View.

The Save View pop-out will appear, prompting you to give your view a View Name.

Enter a relevant name (TIP: attempt to make it as unambiguous as possible), then click Save and your customised view will appear under My Views

If required, you can share the view with other user's by clicking Actions and following the Share View option (NOTE: the view will be shared with all users)