Initial Set Up of the Integration
To set up your integration you will need to complete some basic credentials
Within the Admin Tab, navigate to the MS Teams section and select Integration Settings
Click Connect to MS Teams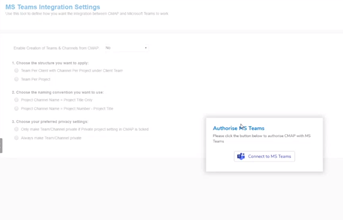 If you are a System Administrator, the Permissions Requested pop up will appear, check you are happy and select Accept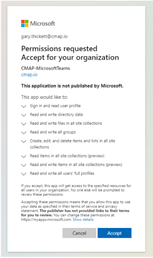 Note: If you are not a Office 365 System Administrator a pop up advising that you do not have access to this area will appear.
You then need to define how you want the integration between CMap and MS Teams to work.
Firstly, you have the option to consent to CMap creating Teams & Channels.
If you select Yes, you are then able to choose how you would like to structure your Teams and Channels.
Option 1 – Creates a main Team for your client,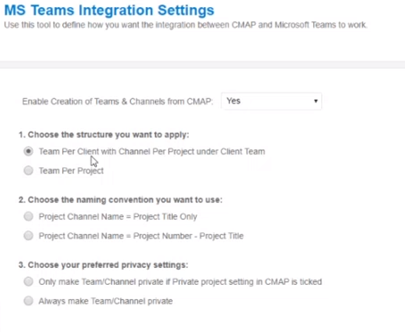 A General channel is automatically created and then separate channels for each project relating to this client are listed underneath as they are created.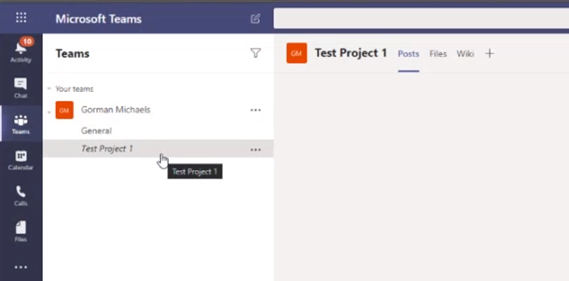 Option 2 – Will create a separate Team for each project irrespective of the client.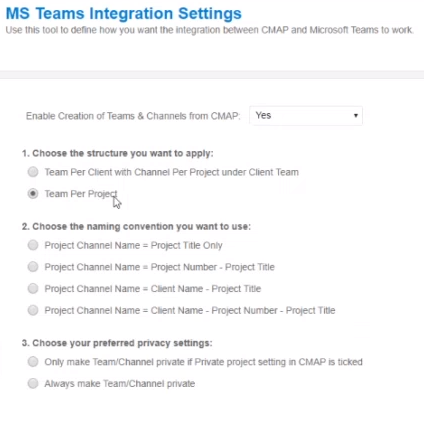 Naming convention for your Teams Channels
You can choose the naming convention used when your Teams Channel is created by selecting one of the following options.

Privacy Settings
Whilst creating your Team/Channel, you can choose from the following two Privacy options:

Only those with a key role on the project such as, Creator, Project Manager, Co-Pilot, will automatically be given access to view the channel.
To become a member of the Channel, the user must already exist in the Teams Organisation.
Creating Teams & Channels for new projects/potentials
Once you have completed the required details on the Add Your New Potential/Project page and click save…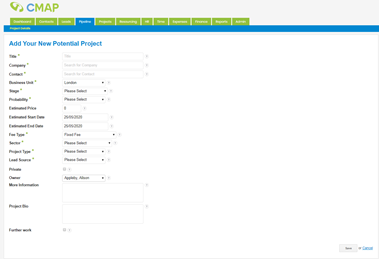 The following pop up will appear. If you click Yes the Teams Channel will be created automatically for you. If you click No, you will have the option to add a channel at a later date (see below for more details)

Creating Teams & Channels for your existing projects
To create Teams Channels for your existing projects, navigate to the Project Details page. On the right-hand side of the screen you will see the following Microsoft Teams panel.

Simply click the link and the Teams Channel will be created automatically for you.
Navigating to your Team/Channel via CMap
To navigate to your Teams Channel from the Project Details page, just click the link in the Microsoft Teams panel on the right-hand side of your page and you will be re-directed.

Disable the creation of Teams and Channels
To disable the ability to create Teams and Channels in CMap, navigate to the MS Teams Integration Setting via the Admin tab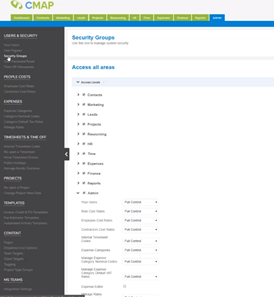 On the MS Teams Integration Settings page you will see Enable Creating of Teams & Channels from CMap, select No and no further Teams and Channels will be created, however you will still have access to those that you have already created.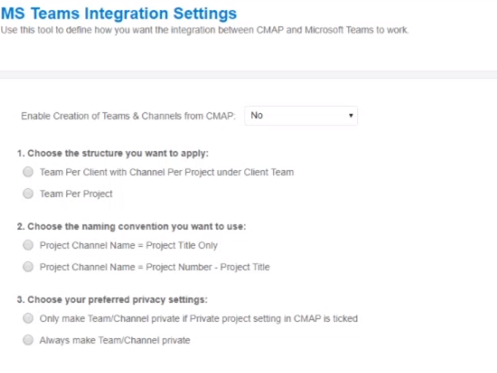 The Microsoft Teams box within the Project Details page will then show that there are no Teams Channel for these projects.