You can create activities against people if you're using CMAP's HR module.
Activities can be entered manually or using an Automated Activity Template. These templates automatically assign activities that need to be fulfilled. 
Some example use cases include:
Employee On-boarding

Employee Off-boarding

Appraisals
To create a HR Activity Template, head to the Admin Tool - Automated Activity Templates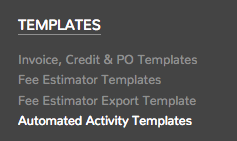 To create a new Activity Template, click the New button. Populate the Name field and then select HR from the Type dropdown and click Add [I have created an "Employee Onboarding" template below]

Then, to create the activities for this template, just click on the name of the template to enter it.
Once within the template, click the New button, then complete the new activity form.
Enter the detail of the Activity, e.g. "Check the New Starter Form has been completed" and enter any Notes for extra guidance if required.
Enter a Start Date Offset to set how many days after the start date this date activity should be scheduled for e.g. if I want to leave two-weeks, I can enter "14" days. The Duration sets how long the task is due to take and will ultimately control the Due Date (N.B. If the activity starts ends on the same date enter "0").
Using the Responsible Type field, you can choose 1 of 2 options:  
 

Named Person

 - here you can select a named person from your CMAP user list who will always be responsible for this activity

Role

 - This means you can choose a role in relation to the person that the activity template is being applied to e.g. if this is set to Line Manager, the Line Manager of the user that te template is applied against will be set as the responsible person
Finally you can select a Category for the activity, which will enable easier filtering/grouping and reporting on your activities.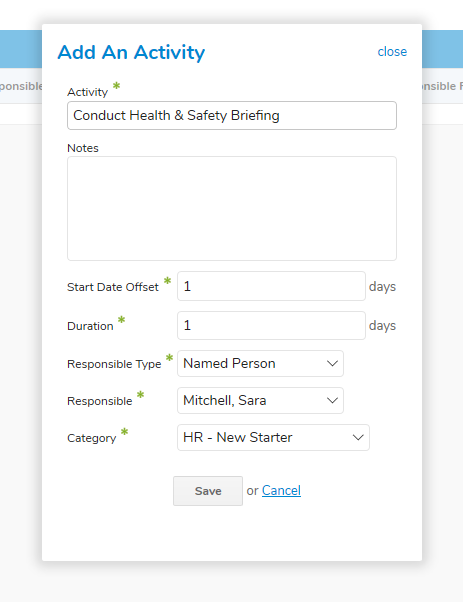 There is also a handy Copy Template feature for instances where it's easy to start with a clone of an existing template than it is to start from scratch.
TIP: Remember to give your templates an unambiguous name so they are easily identifiable to avoid confusion.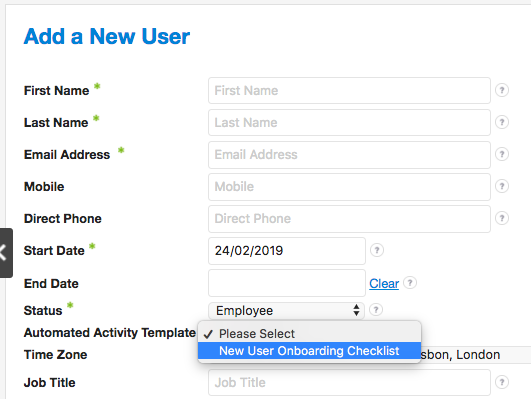 If you have any questions, please get in touch - support@cmap-software.com or 01625 521 000