The HR module is a great way to centralise and maintain key HR information in CMAP using private fields and security permissions to control who has access to what information.
You can use this functionality to:
Build a Skills Matrix of your people using CMAP's custom field functionality

View detailed profiles of people including their skills & projects and clients they have worked with

Upload documents against specific users or policy documents to the HR Tab for all to access

Complete Onboarding checklists using CMAP's Automated Activities functionality 
HR Module
The first view you will see when you click on the HR tab is the main interface or the User Grid View. This page gives you an overview of all users in CMAP.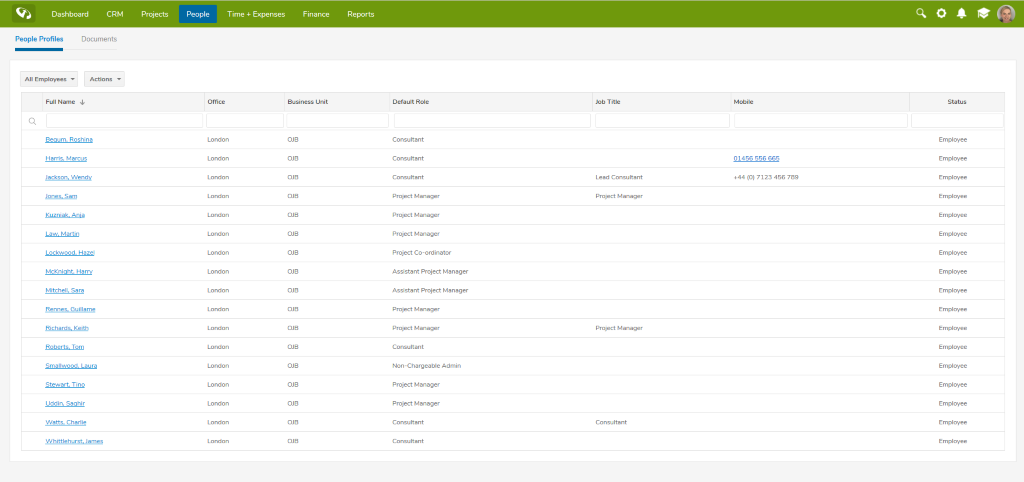 You have the ability to customise the columns in this view, enabling you to see the information most relevant to you by clicking on Actions in the top left-hand corner and selecting which fields you would like to see. For example, you could add in a column to show the users email addresses, their start date or the name of their Line Manager.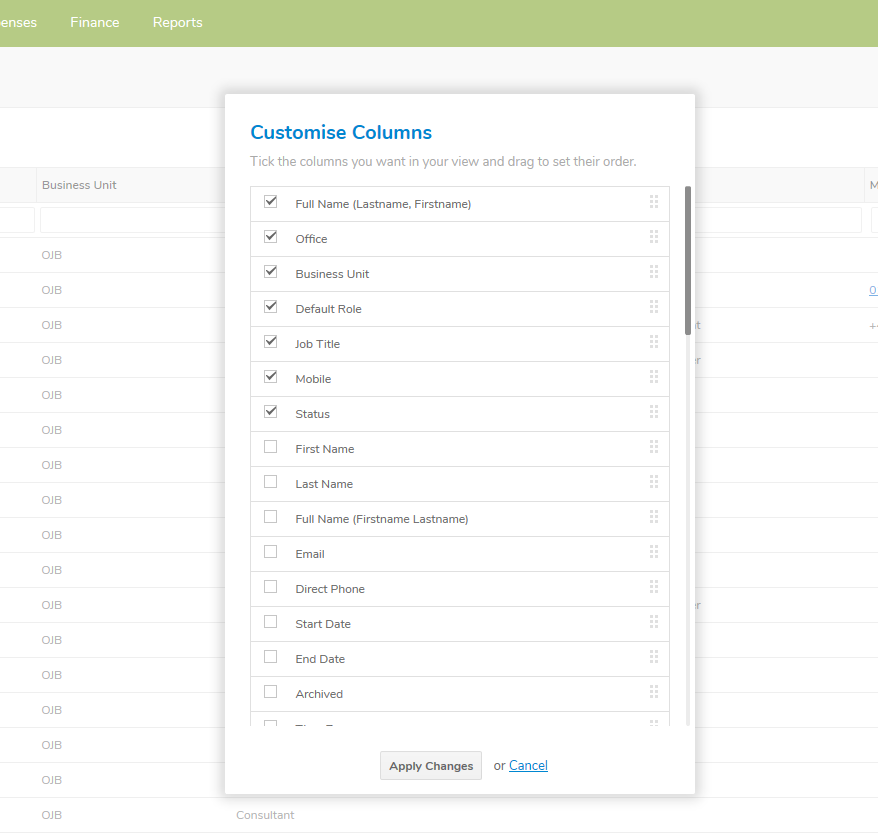 As with all of the grid views in CMAP, you can also create and save a customised view like the one below which includes Skills and Languages. These Skills and Languages are User Custom Fields which we will cover in more detail later.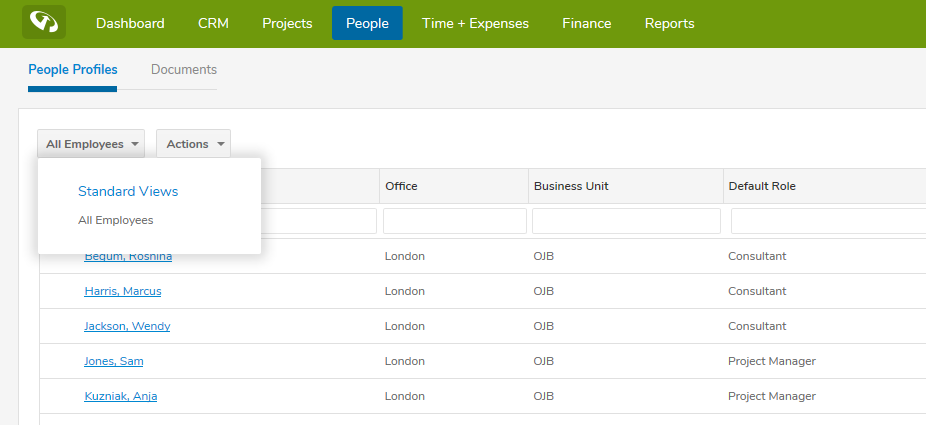 NOTE: If fields have been marked as private, these won't be available for selection as columns within the User Grid view unless you have the HR-related View Private Fields permission. We have also excluded some of the more sensitive core CMAP fields from the list of columns too; these include Actual Cost Rate, Sales Target, Late Timesheet, Timesheet Week, Security Group and Productivity Target 
People Profiles
You can drill down by clicking on the person's name to see more information on that specific user. This takes you through to the People Profile view which you will only be able to access if you have been granted the relevant security permissions.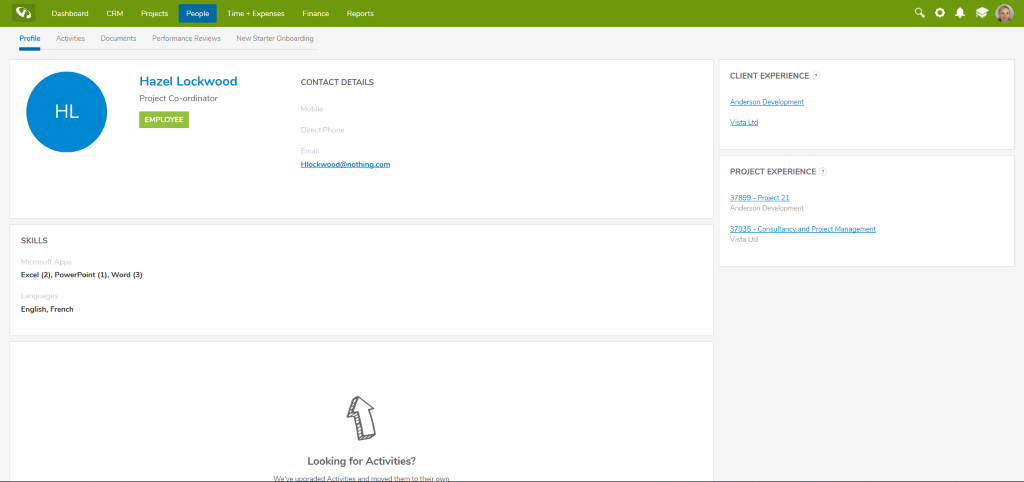 The information on the Peoples Profile page is grouped into categories, with the standard ones being:
Personal Details - taken from the details entered when the user is created

Client Experience - shows clients the user has worked with, using the time booked to projects to give this information 

Project Experience - shows projects that the user has worked on, using the time booked to projects to give this information 
As mentioned already, you can create user custom pages and fields, for example "Languages" or "Skills" which you can view in more detail in the People Profile. Click on this link for more information on creating these.
When adding custom fields, you are given the option of selecting the Self-Serve option. Self Serve fields are custom fields that are made available for the user to maintain themselves. These fields can be accessed by clicking on your profile in the top right-hand corner.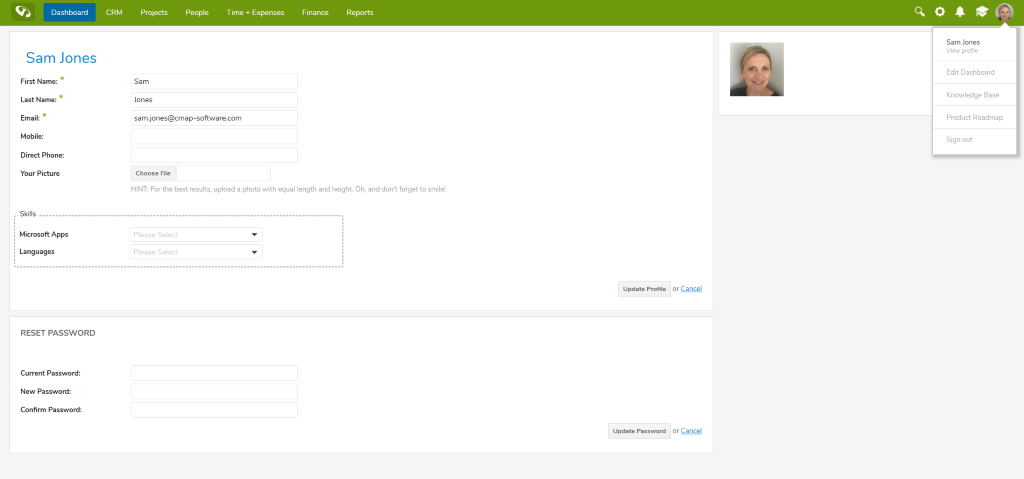 It's also worth noting that when you create a custom field you are also given the option of making the information Private. This means that only users who have been granted access to Private Fields will have the ability to view this data, giving you an extra level of security and confidentiality, ideal for fields containing personal information. If you have selected for a Private  field to also be Self Serve, these will be shown on the users profile page without the need for the user to have access to Private Fields.
When you mark your field as Private, you will see the option to View When Private appear below.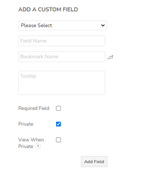 Selecting this option means the field will be visible to users who have access to the page it appears on but will remain Private in all other areas of CMAP.
Activities
You can also add activities to the HR area. There are two ways to do this, either manually or via Automated Activity Templates.
Adding an activity manually is really simple, you just need to click the New button in the Activities tab and complete the details in the pop up.
To learn more about the activities functionality click this link.

Automated Activity Templates  are a great way to keep on track with the standard tasks required during the process of Onboarding new users to your company. When you add a new user to CMAP you can select the relevant predefined template which will then prompt tasks to be performed at specific intervals by specific individuals (Please click on this Link for more information on the Automated Activities - HR Activities).
Follow on to learn more about HR Documents using this link.