N.B. This is an optional feature, therefore it will only be enabled if requested (not compatible with the AEC Edition).
In some scenarios, you may have to raise internal invoices to alter the balances of projects e.g. when you invoice the client up front, but they then decide to use the budget for a different project and honour the original invoice.
The Internal Invoicing feature will enable you to raise internal invoices/credits against projects in CMAP but, importantly, without these impacting on your invoice number sequence or being transferred to your G/L system.
If you feel you would benefit from this feature, please contact our Support Team for more information and to get this enabled.
Creating an Internal Invoice/Credit
To use this feature to assign an invoice amount to a new project which has been previously billed from another, first you have to schedule the internal credit on the original project.
This is done by following the same process of scheduling a regular credit i.e. entering it as a negative value.

Next, we approve and create the credit. With Internal Invoicing enabled you will see an additional option when choosing to create; Create Internal Credit.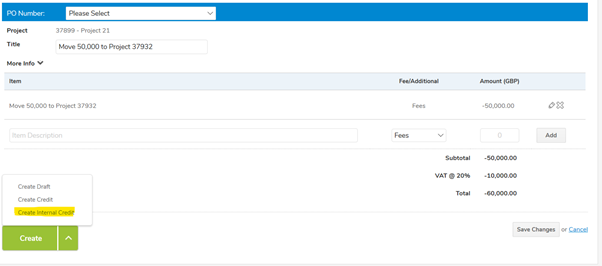 The Internal Credit Note will be created, with the Credit Note Number being set as Internal.

To complete the process, you now need to counter-balance this action and schedule the internal invoice against the project you would like to transfer the invoice amount to.
Follow the same process of approval and creation as you would for a standard invoice, except for selecting the Create Internal Invoice option from the Create menu.
The Internal Sales Invoice will be created, with the Invoice Number being set as Internal.
Note: You can only create internal invoices/credits against Fixed Fee projects. This feature is also not available for the AEC Edition.