Copy from Fee Estimator
The Copy from Fee Estimator option allows you to replicate the tasks from the Fee Estimator as activities, which you can then assign to users to complete.
To use this option, first ensure that your Fee Estimator is properly filled-out with the various tasks that make up the project.
Then, go to the Activities page within the project.
Click the New button and choose the Copy from Fee Estimator option from the dropdown menu.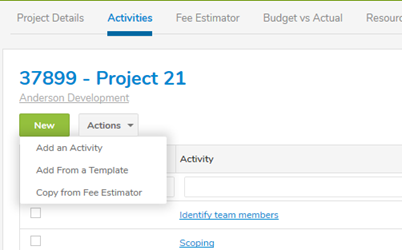 You will then get prompted via a pop-out that asks if you wish to proceed.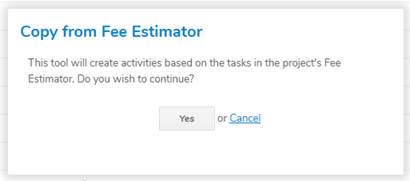 Selecting Yes will automatically create an activity for each task within the Fee Estimator. The activity will be populated as follows:
Activity: Task name
Notes: Task notes
Attachment: Not set
Source: The project
Responsible: The user that actions the feature
Contact: Not set
Start Date: Stage start date if set, else project start date
Due Date: Same as the Start Date above
Category: Not set
Status: Open