Consolidated invoicing allows you to take multiple, separate invoices across a number of different projects and turn them into a single, consolidated invoice for the client.
This functionality initially performs a 2-part check;
Are there any other invoices scheduled against projects with the same client PO number?
Are those invoices scheduled in the same month?
If the answer to both of those questions is Yes, CMAP will then make it possible to pick and choose which of the applicable scheduled invoices you would like to combine into a consolidated invoice.
For example, if you have 4 projects with "ABC Pharma Inc." that….
Share the same PO number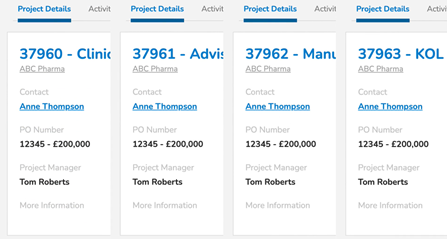 And have an invoice scheduled this month.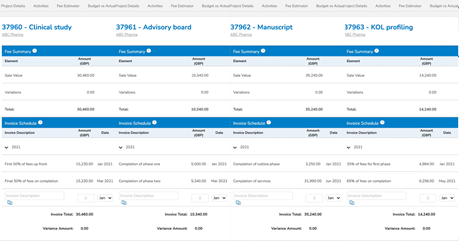 Click Create to access the invoice layout page
CMAP will check if there are eligible invoices and if so, the Invoice Consolidation prompt appears.
The prompt tells you how many scheduled invoices for this month share the same client PO number.
If you want to send an individual invoice, just click No and you will go through to the invoice layout page that you're already familiar with.

If you click Yes you will be taken to a second stage of the pop-out that will list all eligible invoices.

Use the tick-boxes to select the invoices that you wish to consolidate,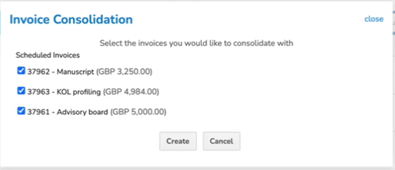 Then click Create,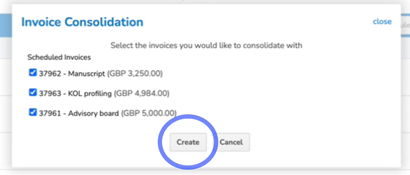 You will then be taken to taken to a slightly different version of the invoice layout page.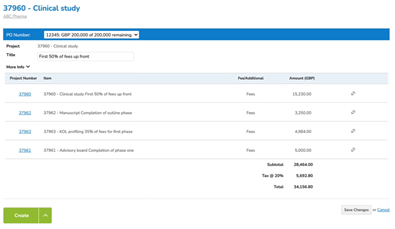 If you click to edit an invoice line you will see that the amount can't be edited.
If the value needs to change, all you need to do is reset the invoice, update the amount in the project's invoice schedule, and then re-start the process.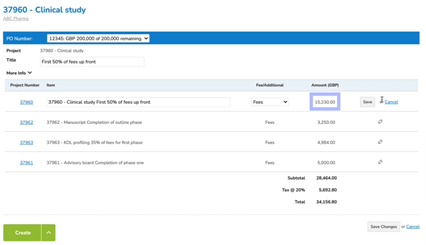 The description can be edited, so you can tweak the details if necessary.

The "Project Number" column acts as a reference to enable you to tie the invoice line back to the original project.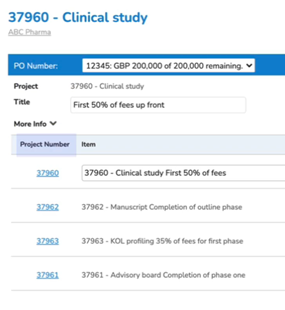 NOTE:
You cannot delete an invoice line from this page. If you want to remove one you need to reset the invoice and re-start the process.
You cannot add additional invoice lines in manually. If you do want to add another line, reset the invoice restart the process.
Once you are happy, click Create, and CMAP will produce your Consolidated Invoice.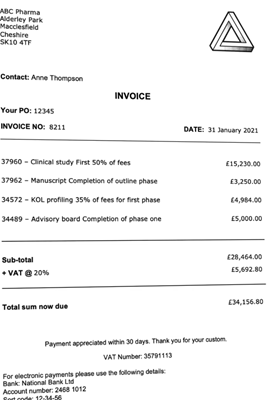 It will then be clearly referenced on the project's invoicing page that this has been billed as part of a consolidated invoice.