Edition: All Editions
Plan: All Plans
Within CMAP we provide you with the ability to capture the Project Start & End Dates as well as dates the stages will run between.
NOTE: Stage Dates come as standard with the AEC Fee Estimator. If you don't have access to Stage Dates and would like them enabled, contact us and we can switch these on for you.
Not only do these dates provide useful information to your project teams, we also use them to control some of the timeline views in CMAP e.g. Resourcing, Invoicing and Revenue. The stage dates in particular are used to drive the reporting in the Staffing Prediction Report It's therefore important to ensure these dates are as accurate as possible.
As the Stage Dates and Project Dates are related but can be edited independently we have made it as easy as possible within CMAP to manage these no matter where you are making changes.
Project Details Page
If you edit the Project Start Date and set this to a date which is later than the earliest Stage Date or the Project End Date which is earlier than the latest Stage Date, the below popup will be shown to assist you in moving the stage dates accordingly. The tool will provide suggestions as to what the new stage dates should be but with the option to exclude changing any of the stages which must be updated due to the change in the project dates.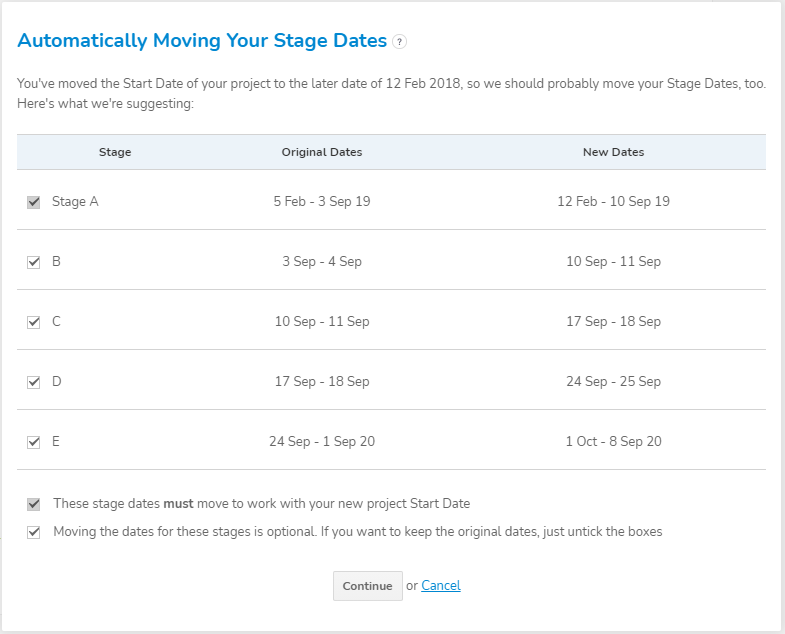 NOTE: This popup will only be shown for projects where the stage dates have been edited. If the stage dates haven't been changed, and this is on a potential project, then they will automatically be updated to match the Project Start and End Dates.
Project List (Grid) Page
Within the Project List (Grid) pages, you have the ability to edit the Start and End dates here. This makes for quick and easy adjustments without having to navigate into each Project details page. The same tool is available here, as described above.
Fee Estimator
When you are managing your stage dates within the Fee Estimator the Project Start and End dates will be updated automatically if your stage dates are set outside of the current Project dates. If your Stage Date is set before the Project Start Date then the Project Start Date will automatically update to the earliest Stage Date. If the Stage Date is set to later than the Project End Date, the Project End Date will automatically be updated to the latest Stage Date.