Edition: All Editions
Plan: All Plans
Grids are used widely throughout CMAP. Whereas the data within the grids may differ, the functionality of how the grids work is fundamentally the same.
Views
All Grids come with a set of "Standard Views". There is also the option to create and save your own Views.
To change to a different view, select the View menu at the top right of the Grid. The list of available views will be shown. Click on the View you wish to change to.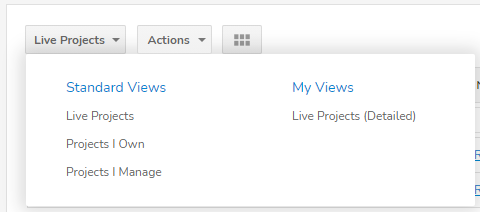 TIP: CMAP will remember the last view you selected and will default to this view when you navigate back to a Grid page.
Custom Views
As well as the Standard Views, you also have the ability to create your own views by selecting and ordering the columns that are included. To create your own view, select the "Actions" menu and then click "Customise Columns".

A popup window will appear showing all of the available columns you can choose from. The columns shown on the view you have currently selected will be ticked by default.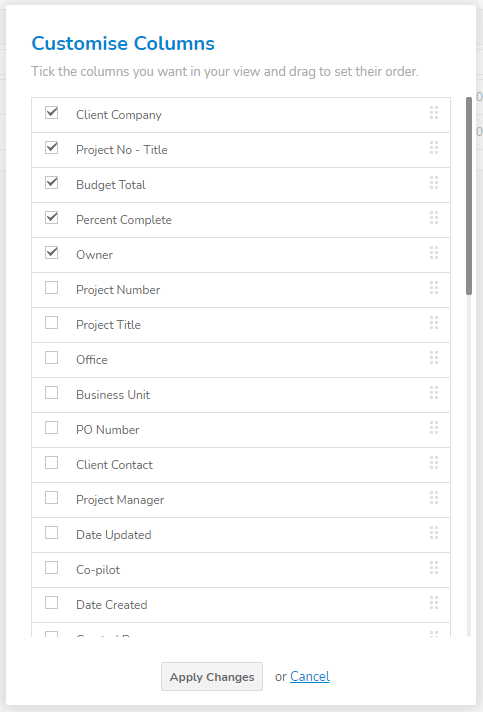 To add or remove columns, tick the checkbox along side the item of information you would like to include.
You are able to re-order the position the columns in the grid are listed by dragging the icon on the right hand side of each selection in the list. Once you have selected and ordered your columns, click "Apply Changes".
The Grid will update to show you your selection. If you would like to save this as a View you can use again. Click the "Actions" menu again and this time select "Save View".

A popup window will appear allowing you to give your new view a short and descriptive name. Enter the name you would like for this new view and the click "Save". Your new view will now be available to select from the Views menu.
Filters
Depending on the type of data, there are different options for filtering the columns within the Grids.
Text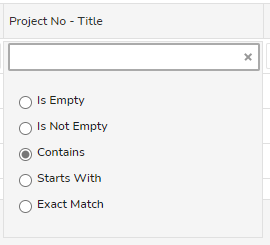 Dropdown Lists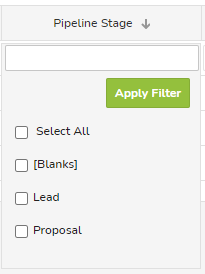 Numeric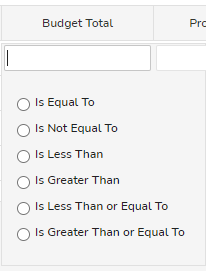 Dates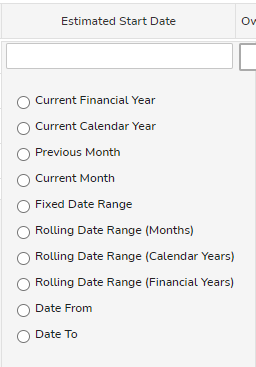 Users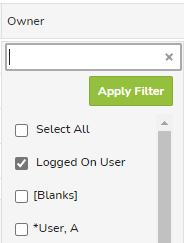 Ordering/Sorting
You can order/sort the information displayed within a grid by clicking on the column header you would like to sort by. If you click the same column header again, it will reverse the sort order of that column. You can see which column is being sorted and the direction from the arrow displayed within the column header.

Inline Edits
Some of the fields within Grids are editable inline, within the Grid itself. You can tell which fields are editable by the pencil icon which is displayed when you hover over a cell.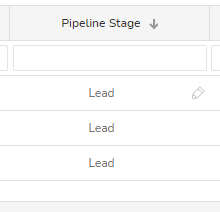 To edit the value, click the pencil icon which will make the cell editable. Change the value to a new one and then click away from the cell. The value will be updated automatically without the need to save.