Edition: All Editions
Plan: Pro & Enterprise with Portfolios addon
If you have Report Builder as well as the Portfolio addon, you can enhance the Portfolios functionality further still by publishing your custom Portfolio boxes to the Portfolio Page.
Start by creating your report in Report Builder, you can not use Report Types that are Companies, Contacts Groups, Contacts, People, Rate Cards, Targets or Time Off for portfolio boxes. Also, you can only use Custom Pages which are directly linked to Projects.
NOTE: Certain Preset Filters can not be used in conjunction with a Portfolio box, if you include any of these a warning will be shown and the preset filters which aren't compatible will be removed.
Once you have built your report, select the "Tools" menu and then select "Publish Report".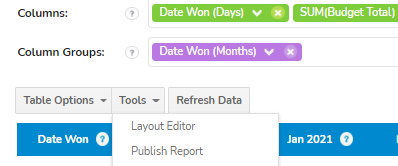 Within the popup box, select to "Publish as a Portfolio Box", enter the "Width" and "Height" of the Portfolio Box then click "Save".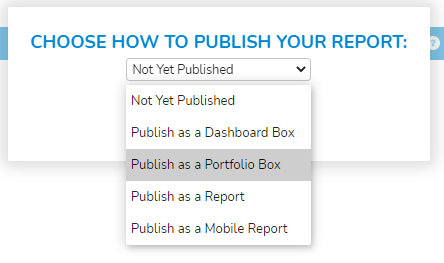 When you go into the "Portfolio Page Layout" admin tool and select to add new Portfolio boxes, your new custom portfolio box will be available for selection.