Editions: All Editions
Plans: All (custom Dashboard Boxes available on Pro & Enterprise)
Back in Summer 2021, CMap released a feature that allowed you to create multiple Dashboards and push the latest Default Dashboard to everyone in a chosen Security Group. This is a useful tool as it allows Users to have access to a wide range of data that is specific to their roles within the company.
As part of our Spring 2022 release, we have introduced the ability to centrally administer multi-page Dashboards. This feature allows Admin users to set up Default Dashboards for Security Groups (including multiple pages) and push them out to Users as and when they are required. This makes managing Dashboards across all CMap Users much easier and avoids individual users having to set them up themselves.
In this article, we'll look at:
How to set up multi-page Dashboards
How to push out multi-page Dashboards
How to set up multi-page Dashboards
1. On your Dashboard, go to the Admin tab, by selecting the

icon, which you will find in the right-hand corner of your Dashboard when you log in to CMap.
2. On the left-hand side of your screen, you will see the USERS & SECURITY navigation side extension. Select Security Groups and you will see a list of your Security Groups.

.
3. Find the Security Group that you would like to setup the Dashboard for and click Actions. Then select Setup Default Dashboards from the dropdown list.

4

. You will be taken into the Edit Dashboard page in the Security Group Admin page. Here, you can manage the Home Dashboard and also add additional Dashboard pages, by selecting the

icon.
NOTE: If you do add an additional Dashboard Page, then every dashboard page should remain in edit mode, so that you can flick between editable pages.

NOTE: You can learn more about how to use and manage Dashboards

here

.
5.
Once you have finished editing the Dashboard pages for the Security Group, select "
Exit Edit Mode
" and the pages will save.
NOTE: You can edit additional Dashboard page names, but you cannot edit the Home Dashboard name.
How to push out multi-page Dashboards
When you have completed setting up the Dashboard (including any additional pages), you can push them out to everyone in the Security Group.
Go back into the Admin tab and open up your Security Groups. Click Actions and select "Refresh Dashboards".

NOTE: When using this functionality, you will be prompted by the warning dialogue currently in place: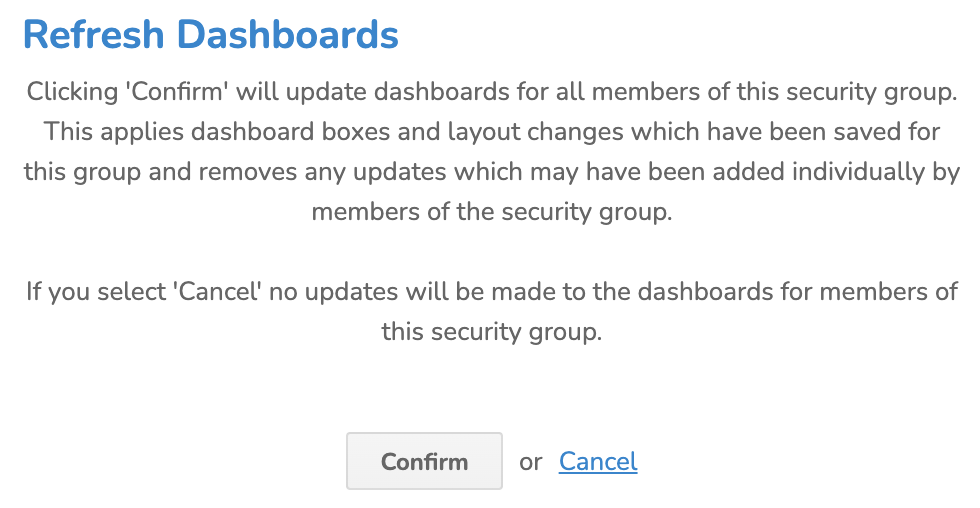 However, depending on whether you have created only a single page Home Dashboard or a Multi-Page Default Dashboard, this will result in different scenarios when refreshing users' Dashboards:
Scenario 1: The default Dashboard is only a single page (such as the Home Dashboard)
Only the Home Dashboard updates to the Default. Any other multi-page Dashboard pages that have been created by individual users will not be updated.
Scenario 2: A multi-page default Dashboard is created
Home Dashboard will be updated and any additional Dashboard pages that individual users have set up (excluding Portfolios) will be removed. These will be replaced with the new multi-page default Dashboard.
Note: Portfolio Pages showing on a user's Dashboard should not be affected by this change, so if Dashboards are refreshed and replaced, any Portfolio pages that the user has set up should remain as they were.
Hey presto, hopefully you now know how to set up multi-page Dashboards and can push them out to your CMap Users. In doing this, you can efficiently manage default Dashboards for your Security Groups, which will save individuals having to set up their own, as well as driving consistency in the types of data that they will see when they log in to CMap.